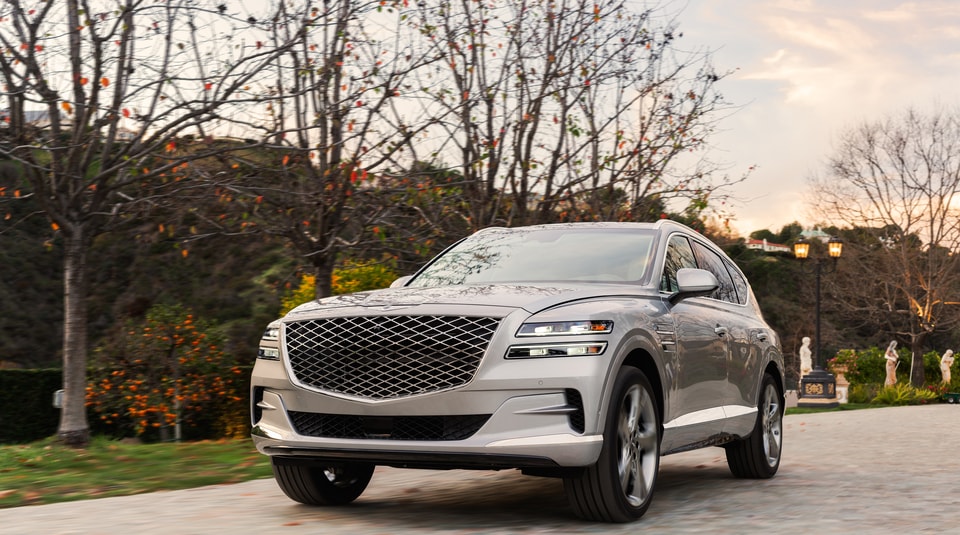 Exterior Appearance
The new Genesis GV80 has been masterfully crafted from the windshield to the taillights. Its husky frame still possesses great aerodynamics. Some of the strongest of lines can be seen streaking from end to end without any interruptions. The SUV's front grille prominently displays a gorgeously weaved pattern. Eye-catching elements are available via quad LEDs, which exhibit a futuristic appearance. There are two more light bands on the frontside of the body to give off a wrap-around affect. The new GV80 also commands attention around Redondo Beach while sitting on 22-inch alloy wheels, and rich hues are also available for the vehicle's exterior. Its low profile is accentuated by its wide stance. There's also a good balance of contours on the sides of the vehicle, on the hood and around the wheel arches.
Interior Presence
The new GV80 has an interior that's luxurious beyond belief thanks to all its fine appointments. The interior is laced in Nappa leather while sporting metal accents and wooden trim. all these materials have blended together for a unique appearance that's sophisticatedly beautiful. Some of the finest of stitching is visibly snaking its way around the seats and onto the dashboard. This upscale interior goes even further while being illuminated by ambient lighting. Up to five people can sit comfortably in the cabin. The front seats have power and massage capabilities. Heat and recline functions are also available. In addition to that, Hawthorne drivers can enjoy the excellent view from the vehicle's panoramic sunroof.
A number of tech advancements have also been implemented such as a 12.3-inch digital cluster that projects 3D images. Located in the center dash is a huge 14.5-inch screen. This next-generation screen is full of apps, and you can answer phone calls by simply tapping the screen. Three-Zone Climate Controls is also available. Hear your favorite songs the way they're meant to be heard via the SUV's 21-speaker audio system. The premium Lexicon audio system delivers a superb and life-like listening experience as you drive through Inglewood. The new Genesis GV80 hosts a click-wheel control near the center console, and it allows you to easily interact and control many of the available features.
Performance
One of many powertrains are available for this sensational model. There's a 2.5-liter engine that's turbocharged for optimal acceleration. This four-cylinder engine produces up to 300 horsepower and 311 pound-feet of torque. Buyers can up the ante by selecting the 3.5-liter twin-turbocharged V6 option, as it produces up to 375 horsepower and 391 pound-feet of torque.
Rear-wheel drive comes standard, but Carson shoppers can upgrade to an all-wheel drive system. The new Genesis GV80 is athletic enough for aggressive cornering. The SUV's throttle response and suspension can be customized by shifting between the available drive modes. Active Noise Cancellation is built in to deaden road noise. Drivers can control the vehicle's eight-speed transmission via paddle shifters. You can also head off the paved road comfortably.
Want more details? Swing by our Torrance location soon, and our staff at Genesis of South Bay will be happy to answer any questions you have about the new Genesis GV80.